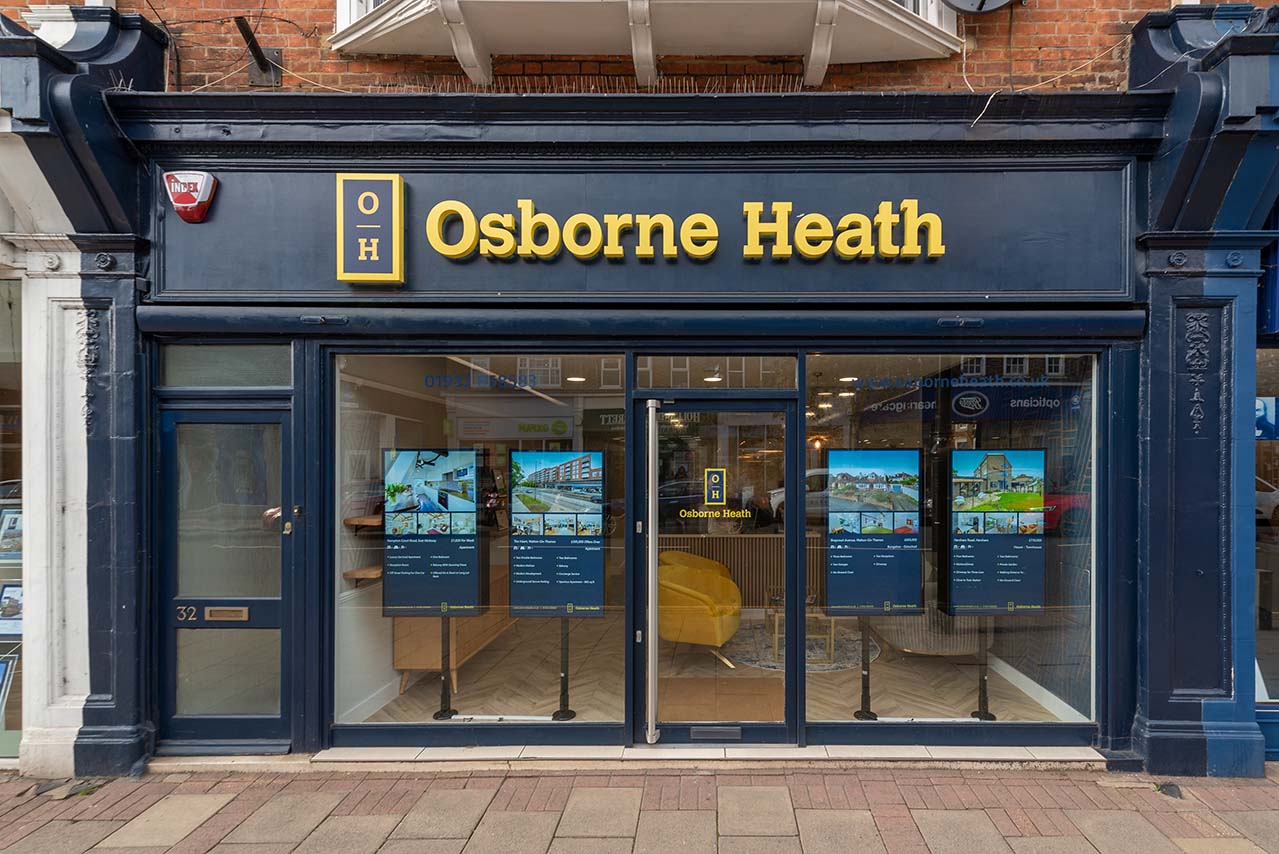 Osborne Heath – Estate Agent
The key to navigating the tricky months ahead?…Think Digital
So, what's next for the housing market? Is it stalling or falling? But, the bigger question remains, what can be done to navigate the invariably trickier months ahead?  While sales continue, albeit at a slower pace and lesser volume, time becomes an ever more precious commodity for over-stretched agents who now find themselves endlessly going the extra mile to get deals across the line.   Now, more than ever, there's a pressing need to use every tool at your disposal to maximise time whilst boosting community exposure.
As a former agent, Steve Blackaller, Sales Manager from digital display experts, Intouch instantly relates to the frustrations of agents who are run ragged whilst striving to deliver. "Engaging in labour-intensive, old-school tasks like daily updates of window card displays, while trying to market the agency and its expertise to the wider community – at a time completions are taking longer and sales are more demanding – it can be overwhelming."
"It's undoubtedly why we've seen a marked shift towards agents completely digitising their entire window display.  Cutting out the daily admin and delivering a clean, clear window that not only elevates individual properties but allows the agent to put their brand front and centre in the community.  It instantly highlights your expertise and gives the opportunity to become the authoritative voice for your local catchment"
That's what attracted James Niknejad of sales and lettings agent, Osborne Heath, to Intouch Display. Earlier this year, the multi-award winning agency, that has offices covering Berkshire and Surrey, digitally transformed all of its branch window displays, as well as inserting large-scale internal touchscreens to enhance the customer journey.  He commented "Front-of-house, multiple non-touch displays are incredibly eye-catching and deliver consistent brand messaging across our entire network. Coupled with automatically updated listings, the whole package requires minimal time involvement from our team.  Internally, the interactive screens also offer a unique opportunity to show prospective vendors and buyers how well a property is presented for sale."
As its network grows, this multi-branch independent is constantly looking at ways to increase time efficiency while streamlining service delivery without losing local advantage.  Niknejad added "Intouch Display offered an excellent solution. It's not just the ultra-high bright screens, which are visible in all sunlight conditions, it's the ease that we generate and upload content across our entire network.  Add to that the support of Intouch's experienced in-house graphic design service, we can effortlessly generate bespoke promotional material"
Becoming the digital doyenne of the local market is essential. Establishing your position as the go-to agent by building trust and demonstrating expertise should be a priority to cut through the negative noise.  While the market is slowing, there is still opportunity with downsizers and those affected by the cost of living crisis who are reversing the race-for-space created during the pandemic. Along with those stuck in the middle and desperate to upsize after being priced out of the market for the last couple of years.  While some agents will turn to social media to speak to these groups, the extra layer of daily admin only serves to increase the already weighty burden of tasks resting on agents' shoulders.
That's where digital displays come into their own.  Intouch, offer bespoke touch and non-touch display solutions that instantly improve your visual impact on the high street.  Your business stands out night and day thanks to its ultra-bright screens and bespoke content software.  Elevating your presence and offering a 24/7 conversation with the high street.
Intouch provides software and hardware with incredible flexibility.  It's not a "one size fits all" solution.  From fully managed software, that updates daily to software management tools giving more control to the agent, there is a fully flexible solution to suit. The system can also incorporate virtual and video tours and integrate all agency CRM providers. As part of the package, Intouch includes a complementary graphics design service. Great to promote your USPs.
To request a demo or discuss how you can benefit from an Intouch digital screen solution, contact Steve Blackaller at info@intouchdisplay.co.uk or call 01934 670 014 www.intouchdisplay.co.uk. 
We initially trialled digital window displays with another provider and were disappointed with the impact they had, the unreliability, how fiddly they were to use, plus the support service. Having moved to Intouch earlier in the year, they've transformed our digital offering and crucially, saved time.
James Niknejad