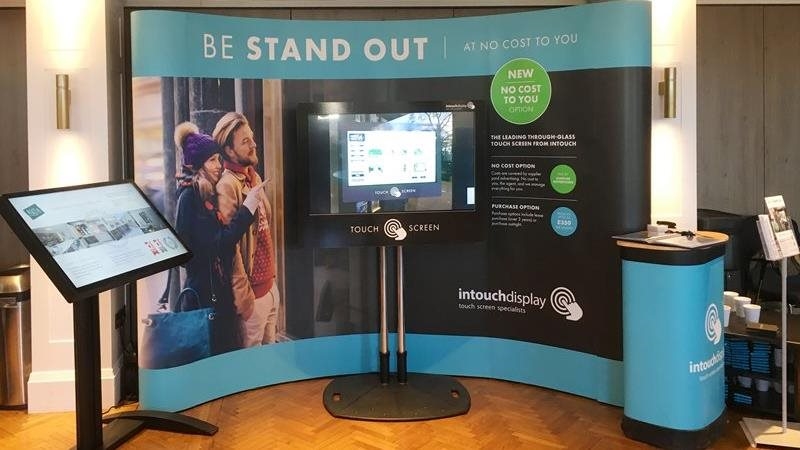 Intouch exhibit at The Guild's Annual Conference
Intouch was delighted to attend the recent 2018 conference of The Guild of Property Professionals. The event, which took place on Thursday 1st February at Westminster Bridge County Hall in London, marked the Guild's 25th anniversary.
A SELL OUT EVENT
The conference, always a popular event, was a sell out. Those who did manage to reserve tickets were treated to a fabulously busy event, with plenty of opportunities to network with other Guild members and catch up on industry news and trends. Speakers included; Sally Lawson, president of ARLA, Paul Offley, the Guild's in-house compliance officer, Anthony Codling, managing director at Jefferies, and Dorian Beresford of Strawberry Star. Guest speaker, rugby legend Gavin Hastings, also gave a brilliant talk on the importance of teamwork – both on the pitch and in the office! The day was rounded off with a fabulous gala dinner and Guild Awards ceremony.
INTOUCH SCREENS ATTRACT MEMBERS' ATTENTION
Twenty two Guild members already have an intouch through-glass touch screen installed in their shop windows, some are also using our internal screens to present properties to clients, and these members are real advocates for our products. It was great to be able to now spread the word to other Guild members at the event. Having a working model on our stand meant we could show off our high-impact, ultra-bright screen and demonstrate how the system works, as well as talk about the benefits that our screens deliver.
LOCATION, LOCATION, LOCATION…
Our technical team had literally just finished installing a new through-glass touch screen in  the shop window of The Guild's Park Lane head quarters. We were able to show pictures of the install, and of the finished product in-situ, which certainly drew plenty of attention.
The screen is set up to display properties from across the entire members' network, so people viewing the screens will have access to 59,000 properties from all over the UK. It's a fabulous opportunity allowing vendors to potentially reach a wealthy international audience in London's most prestigious district. Marcus Whewell, CEO of The Guild, said; "The screens are fantastic. Honestly we only wish we had done this sooner".
To find out more about our intouch touch screens please call Steve on 01934 670014 or email info@intouchdisplay.co.uk. You can also use our LiveChat online chat service.
*The Guild of Property Professionals (also known as The Guild) is a membership organisation with a national network of approximately 800 independently owned estate agents.